Squawking Magpie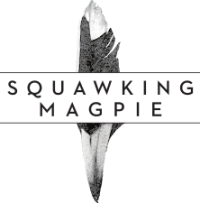 Squawking Magpie is a boutique label hailing from the celebrated soils of the Gimblett Gravels. Here they believe that to create great wine, a hands on approach and a whole lot of TLC in the vineyard is vital. And if their wines are anything to go by, they are absolutely on the money.
The wines possess elegance and finesse. You can taste place – it's not just wine in a glass. It's all the elements of the winemaking process before the grapes even became wine – the sunshine hours, climate, soil, sustainable growing techniques and the terrain of the single vineyard.
Magpies are synonymous with the Hawke's Bay region, hence the catchy name. Squawking Magpie is directed by Gavin Yortt, who always delivers on his promise to create quality wines worthy of fine food and great company. Life is short so enjoy a bottle today!
"Wine needs to be an expression of the place, it needs to be made with passion, it has to have an identity." - Jenny Dobson
The Winemaker
For Jenny Dobson aka The Red Queen winemaking is a lifestyle, not a job.
Interested in aromas from as long as she can remember, Jenny studied food science as no universities in New Zealand offered studies in enology at that time. She completed her degree in 1978 and promptly traveled to Burgundy to delve further into winemaking.
Her first experience was at Domaine Dujac, where she apprenticed with the legendary winemaker Jacques Seysses, working in the cellar and vineyard for two vintages.
Jenny moved to Paris and worked with the British wine expert Stephen Spurrier, teaching wine-appreciation courses and further developing her palate. In 1983 Jenny accepted a cellar master or Maître de Chais position at Chateau Senejac in the Haut-Médoc – the first woman to hold such a position in Bordeaux.
When Jenny returned to New Zealand, the Hawke's Bay was a natural fit with her Bordeaux experience. From 1998 to 2008 she was Chief Winemaker at Te Awa. Since then Jenny has continued to work as a consultant winemaker and winemaker for Squawking Magpie.
Jenny Dobson & Gavin Yortt
WInemaker & Founder - Squawking Magpie