Ostler Wines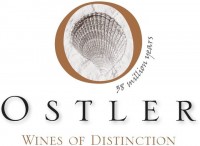 Ostler Vineyards are pioneer producers of wines in the South Island's Waitaki Valley, North Otago. Distinct and unique vineyard sites with underlying limestone and alluvial/greywacke bases make the Waitaki an exciting new wine region in New Zealand. From carefully selected and hand-tended vineyards, Ostler produces unforgettable Pinot Noir, Pinot Gris, Riesling and Gewürztraminer.
Brothers-in-law Jeff Sinnott and Jim Jerram became pioneers when they founded Ostler Wines to produce unique cool climate wines in the Waitaki Valley. It was back in 1998 when Jim (William Ostler's great grandson) and Jeff (viticulturist and winemaker) went searching for a perfect spot to plant their vines. The two discovered a site Jeff believed had it all for growing premium cool climate wine grapes – a north-facing limestone-based slope on an escarpment, overlooking the braided river. It reminded him of the famous slopes of Burgundy. The deal was made and the dotted line signed.
Back then, there was no history of commercial wine growing in the region so they had to start from scratch and have faith in their decision to grow grapes in a place no one had grown grapes before! Respect. With over 20 years of experience, Jeff carries out his winemaking with as little intervention as possible, using traditional Burgundian and Alsatian techniques to produce Ostler's flagship Caroline's Pinot Noir and Audrey's Pinot Gris.
"It is with the greatest of pleasure that I can work with what I believe to be one of this country's Grand Cru estates."
– Jeff Sinnott

The Winemaker
Jeff trained as a sommelier in New Zealand in the early 1980s before working in the wine retail and wholesale trade in Melbourne, developing his palate and a deep affection for fine Pinot Noir. This led him to study at Roseworthy, South Australia, graduating with a Degree in Viticulture and specialising in Pinot Noir and sustainable viticulture.
Several vintages in the great southern land was enough to make him realize there was more to life than Aussie Shiraz. Jeff headed to Gisborne in 1992 as assistant winemaker at Millton Vineyard and then principal tutor in wine studies at Tairawhiti Polytechnic.
Following this Jeff established a small family winery in Marlborough in 1997, produced vintages in California and Burgundy and saw spectacular results with Marlborough Sauvignon Blanc winning the IWC Trophy in 1999 and becoming winemaker at Amisfield in Central Otago. Around the same time, the site of the future Clos Ostler vineyard was found. The lure of Waitaki's terroir was immediate and the rest is history.
Jeff Sinnott
Winemaker - Ostler Wines