Drumsara Wines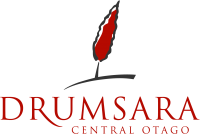 Family, friends, food, wine and the enjoyment of life. That's what Drumsara puts in every bottle. Situated high on a glacial gravel plateau the Drumsara vineyard overlooks the Central Otago towns of Clyde and Alexandra.
To produce wine of the highest quality, the Matheson family craft their wines with hands, sweat and tears not machines. This is only one of the many unique elements which come together in their captivating Pinot Noir and Pinot Gris wines.
John and Audrey Matheson and the Drumsara team are committed to pairing the best of traditional and innovative viticulture techniques throughout the vineyard. Like the innovative method of using 'compost tea' as a sustainable way to provide nutrition to the vines, increase their growth, and supply them with beneficial organisms that helps to ward off disease. The effects of the compost tea can be seen in the excellent vine health and overall fruit quality Drumsara produces.
We cannot forget to mention the Drumsara Ventifacts Block. These rock formations are found only in Antarctica, on Mars and in the Drumsara vineyards. They are glacial rocks shaped by the 300mph late afternoon winds that rushed down the Otago glaciers picking up sand and sediments to shape the rocks and form the soil for their vines to grow in. A movie location seekers dream!
The Winemaker
Originally from France, Antony Worch has made Drumsara's wine since 2005. He holds a Diplôme National d'Œnologue Grade of Master. Antony parlayed his vast oenological studies in France into a force to be reckoned with in the New Zealand wine industry. He has vast experience in viticulture and winemaking in many regions of France as well as in South Africa and New Zealand.
Antony Worch
Winemaker - Drumsara