Caythorpe Family Estate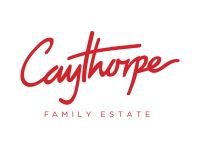 Caythorpe is a fifth generation, 100% family owned farm, orchard and winery located on the Central Wairau Plains, right in the heart of the renowned Marlborough winegrowing region.
The property was settled in 1880 by patriarch David Bishell and named after his home village in rural England. He quickly became renowned as an innovative, productive livestock and cropping farmer. More than 140 years later, the property is now worked by David's direct descendants, and the land use is a mixture of vineyard, animals, cropping and orchard fruit production. The family planted their first vineyards in 1987 and supplied contract fruit to a number of wineries.
The brand Caythorpe Family Estate was more recently established in 2015. All wines are single vineyard, estate grown and made by viticulturist Simon Bishell, with the assistance of esteemed local winemaker Jeremy McKenzie.
The Winemaker
Simon Bishell
Simon is the founder and viticulturist of Caythorpe Family Estate. A fifth-generation descendant of David Bishell, Simon has worked in the family business since completing tertiary studies in 2004, graduating with a Bachelor of Viticulture & Oneology, and Post Graduate Diploma in Commerce. In 2008 Simon was awarded the coveted title of "New Zealand Young Viticulturist of the Year" and later established Caythorpe Family Estate as a means to bring wines to market that have been grown exclusively on Caythorpe. Simon is deeply passionate about all things Marlborough, and describes being a "custodian" of the land. "I am very fortunate to have been raised in such a wonderful place and given an opportunity to farm this land. I hope to build on the legacy left by my forebears and provide opportunities to future generations, all while sharing our little piece of paradise to the world via wine".
Jeremy McKenzie
Award-winning winemaker, Jeremy McKenzie is a seasoned Marlborough expert who focuses on crafting wine that reflects sense of place. Growing up on a farm in North Canterbury, Jeremy is a real Kiwi hunter-gatherer, adventure man and winemaker. After completing his studies, a Bachelor of Science in Biochemistry and a double Post Graduate Diploma in Viticulture and Oenology and Forensic Science, Jeremy's knowledge and passion took him to industry roles in France, Australia, and the USA where he gained extensive winemaking experience at some of the leading wineries in the world. Jeremy has had a winemaking relationship with Caythorpe and the Bishell family since 2001, and was a natural fit to become the winemaker for Caythorpe Family Estate since its inception in 2015.
Jeremy McKenzie & Simon Bishell
Winemaker & Owner/Viticulturist