Butterworth Estate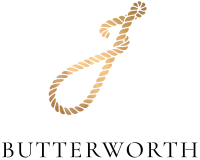 After 20 years of putting down roots, they've changed tack. Renowned sailors, the Butterworth Family are the new custodians of Julicher Vineyard, planted in the iconic soils of Te Muna.
The Julicher family, the original founders were like a lot of the pioneering families in the New Zealand wine industry – hardworking immigrants who arrived with little and looked to make a big impact with their new life. What they lacked in knowledge they made up for with charm and bloody-mindedness.
Wim Julicher (Yu-li-ka) dug every hole and planted every grape. Wim originally planted the Te Muna vineyard as an Olive Grove but the site's unique aspect made it far too cold for the poor olive trees. Luckily for us, it creates the perfect amount of pressure for the divine struggle required to produce world-class Chardonnay and Pinot Noir.
After twenty-five years of experimenting, cultivating, nurturing, and picking up more than their fair share of gold medals, the time was right for the next custodians Brad and Warren Butterworth to take the helm.
While the Butterworth Family is world-famous for their sailing achievements, their viticultural heritage dates back to the founding days of the New Zealand wine industry. The original 1890's vineyard property is still in the family today.
The Winemaker
Winemaker Martin Bell, began working in the wine industry in 2004 after graduating with a Master of Science degree, majoring in Biotechnology, from the University of Otago.
As well as working vintages around the world, Martin has spent nine years in Marlborough. There he used his degrees and gained experience working on the winemaking side of research and development projects as well as premium winemaking.
Martin specialises in using the natural biology of the yeast to enhance the flavour and mouthfeel of our wines.
Martin Bell
Winemaker - Butterworth Estate