Brightwater Vineyards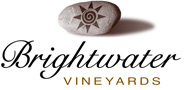 Located 20 minutes south of Nelson, Brightwater Vineyards is a premium boutique winery best known for their highly awarded Chardonnays, Pinot Noirs and Sauvignon Blancs and are leading producers of Pinot Gris and Rosé.
With numerous trophies, gold medals and awards to their name, Brightwater has earned a deserved reputation for premium, hand-crafted wines of bright clarity and immaculate poise.
Returning to New Zealand after many years living abroad, Gary and Valley Neale established Brightwater Vineyards in 1993, bringing to life their passion for wine and desire to make it. Their ambition was lofty; to create a vineyard and winery that would be considered among the finest in New Zealand. In 2012 Brightwater Vineyards was named 'New Zealand Winemaker of the Year' so there's no doubt that they have succeeded.

The Winemaker
Shayne Cox started his winemaking journey way back in 1991 working in the vineyards of West Auckland and has been very busy ever since having worked over thirty grape harvests and fermented thirty different grape varieties in New Zealand and overseas in the vineyards of Italy, Chile and France.
The years of winemaking in Europe provided Shayne the opportunity to experience some truly world class wines and gave invaluable insight into traditional winemaking techniques and the diverse culture of wine and food.


"Winemaking is many things, working with nature and a team in a fully year-round cycle with a rich variety of tasks maintains my passion for the craft. My focus as a winemaker is to produce high quality wines with vibrant fruit, elegance, and are well balanced. Delicious wines to be enjoyed with food and shared with great friends." - Shayne Cox
Shayne Cox
Winemaker - Brightwater Vineyards