Big Sky Wines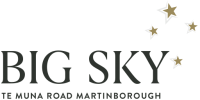 For Big Sky, fine wine is all about place. And people. That's what gives their wines personality and soul.
Katherine Jacobs and Jeremy Corban founded Big Sky Wines in 2005 with one core goal – to make the best wines, not the most wine. The result... world class, hand-crafted wines that give true expression to the character of their place. The secret to their success is being very attentive in the vineyard, and light of touch in the winery.
With terroir at the heart of their wines, the Big Sky team are passionate custodians of the land and environment. Big Sky practice certified sustainable viticulture and are committed to using organic principles.
The Winemaker
Jeremy is a fourth-generation winemaker from one of New Zealand's most renowned, century-old winemaking families.
Katherine is pure energy and passion. After studying viticulture and winemaking in New Zealand she spent time in France which included producing vintages in Bordeaux. Together they make a great team.
Jeremy Corban and Katherine Jacobs
Winemakers - Big Sky Wines